Next >> Viewing 1 - 20 of 125 stories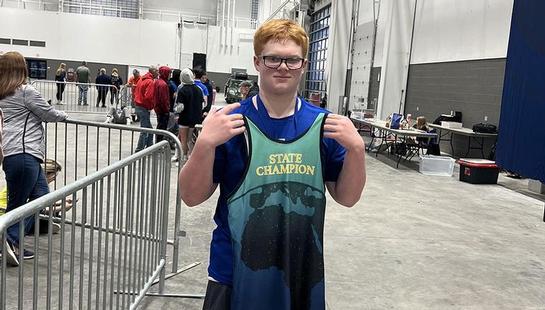 2023 NYWAY State Champion Logan Ryan!:

After an intense first round 3-1 win in sudden victory double overtime, Logan Ryan went on to pick up two pins in the quarter and semifinals to earn his spot in the finals. In the finals, Logan picked up another fall and earned his first NYWAY State title! Congratulations Logan!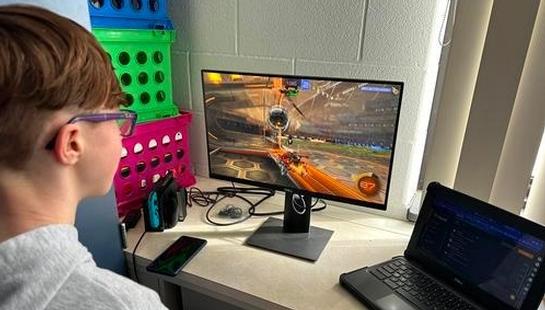 Esports Rocket League Team Ranked 10th in the state by USA Today:

W ith the 2023 High School Esports season underway and its first year indoctrination at Fabius-Pompey Middle-High School, PlayVS has Fabius-Pompey ranked in the top ten of the "Rocket League" teams for the New York State region. Pictures included are action shots of our Esports athletes.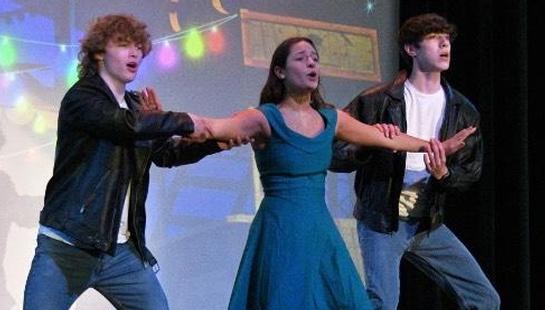 Fabius-Pompey High School Students Presents "All Shook Up":

Don't Miss our High School Musical: All Shook Up! Inspired by and featuring the songs of Elvis Presley. It's 1955 and into a square little town in a square little state rides a guitar-playing roustabout who changes everything and everyone he meets in this hip-swiveling, lip-curling musical fantasy that'll have you jumpin' out of your blue suede shoes! Come enjoy this fast-paced, funny story, loosely based on four of Shakespeare's rollicking comedies with classic Elvis songs like "Heartbreak Hotel," "Jailhouse Rock," and "Don't Be Cruel." Performances are on March 16th, 17th, and 18th at 7:00 pm. Tickets will be available at the main office and online on February 27th. $5.00: Students, ...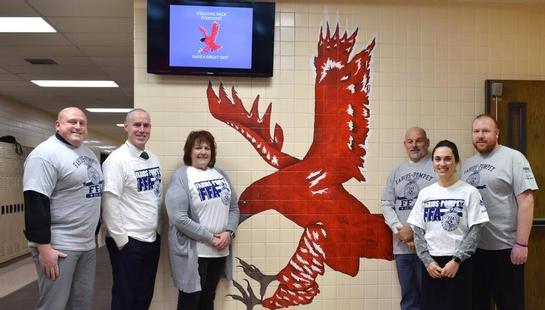 National FFA Week:

Today, FFA provides the next generation of leaders who will change the world. As the top school-based youth leadership development organization in the nation, FFA helps young people meet new agricultural challenges by helping members develop their unique talents and explore their interests in a broad range of career pathways. FFA members are our future leaders, our future food-suppliers, our future innovators and so much more! Whether through service projects or community gatherings, National FFA Week is a time for FFA members to raise awareness about the National FFA Organization's role in developing future leaders and the importance of agricultural education. This year Fabius-Pompey FFA Chapter celebrated FFA week by reading fun facts on the announcements everyday and ...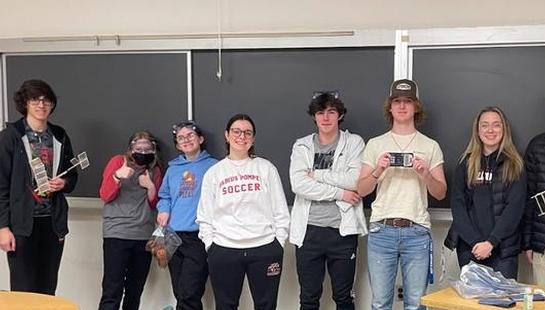 High School Science Olympiad:

The 22/23 Fabius-Pompey Science Olympiad has created an amazing opportunity for our middle school students in the form of mentorship. Students from grades 10-12 have joined together and started a mentor program for our middle school students (grades 7-9). This mentor program will provide support, growth, and leadership to our current and future Science Olympiad team members.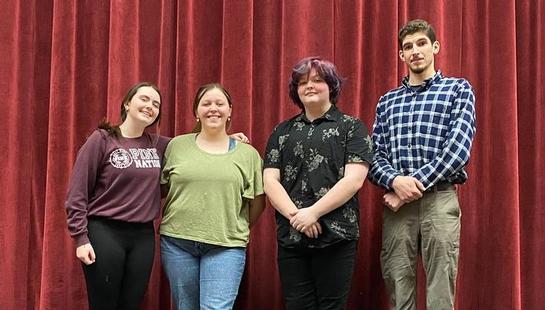 Shakespeare Competition:

Fabius-Pompey High School Theatre students participated in the 2023 Local Shakespeare Competition. Each performer recited a monologue, and was scored for accuracy and quality of performance. The 1st Place winner will continue on to the Syracuse Regional Shakespeare Competition held on March 4th at Syracuse Stage. Placings- 1st Place & Regional Competitor: William Rosa, 12th Grade 2nd Place: Ella Cornell, 10th Grade 3rd Place: Camira Crossman, 11th Grade Congratulations to all of our performers! Pictured left to right: Holly Aust (student prompter), Ella Cornell (2nd Place), Camira Crossman (3rd Place), and William Rosa (1st Place).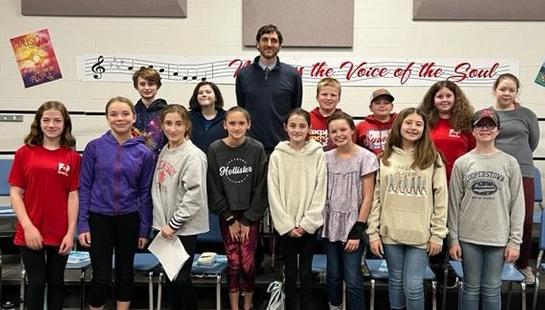 6th Grade Chorus Learns Spanish Lullaby:

From the 6th Grade Chorus Students: Our chorus is learning a beautiful lullaby in Spanish. Señor Cavo came to our class to help us with our pronunciation. He was good to work with and he knew what he was doing! He broke down what the Spanish was for us and helped us learn very quickly!! We enjoyed performing the song for him at the end of class. We can't wait to sing it in both English and Spanish at our concert. We love having him as our Fabius-Pompey Spanish teacher!! Thank you, Señor Cavo!!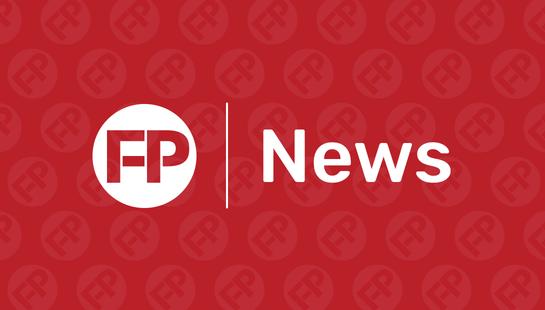 Fabius-Pompey Central School District In The News:

In October 2022, the New York State Education Department released regents results for the 2021-2022 school year. Dozens of school districts across New York State saw 90% or more of their students score as proficient on regents exams in English Language Arts according to state data. Out of 500 New York State school districts, Fabius-Pompey Central School District was recognized as a high scoring district, tied at No. 15 statewide, with 98% proficiency on the English Language Arts regents exam. Read the article on syracuse.com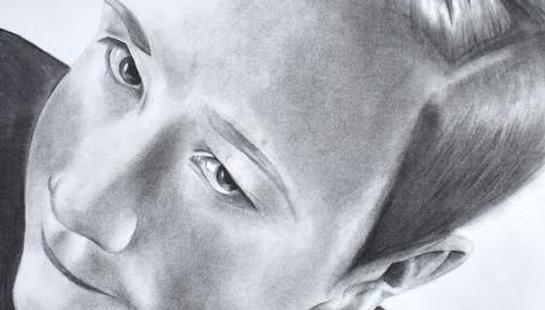 2023 CNY Scholastic Art Awards:

The Scholastic Art Awards is the nation's most prestigious recognition program for creative teens. Our region covers a very large geographic area – 13 counties and over 400 eligible schools in CNY. Judges look for works that exemplify the Awards' core values: originality, skill, and the emergence of a personal voice or vision. This year there were about 4200 entries from students in grades 7-12. Out of those 4200, 200 receive Gold Keys, 400 receive Silver Keys, and 400 receive honorable mentions. 12 students receive CNY Scholastic Art Award! 9 MS students and 3 high school students, their names and images of their work are listed below.
Student Art Show at Fayetteville Free Library:

The Fabius-Pompey Art Department is pleased to announce a kindergarten through 12th grade art show at the Fayetteville Free Library for the entire month of April. Student artwork selected by Elementary Art teacher Mrs. Turner, Middle/High School Art teacher Ms. Ashman and High School Art teacher Mr. Hyatt will be on display. The Fayetteville Free Library is located at 300 Orchard Street in Fayetteville, and the phone number is (315) 637-6374. You can stop by Monday through Thursday from 9 a.m. to 8 p.m., Friday and Saturday from 10 a.m. to 5 p.m., and Sunday from 1 p.m. to 5 p.m. to view the show. We hope you take the opportunity to go see and support our talented art students. by Aurora McDermott, 8th grade by Ava Morse, 5th grade by Henry Elwyn, 5th grade ...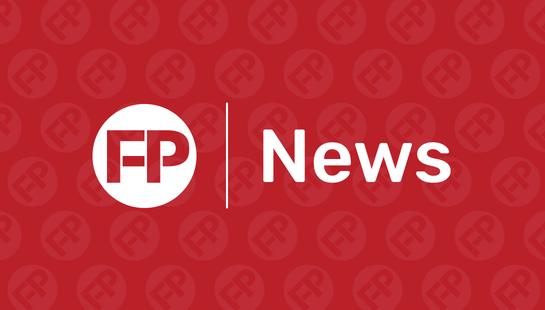 Jennifer Hoyt Recognized:

Our Transportation Department's Jennifer Hoyt not only transports your children to school and home safely each day, she is an accomplished equestrian coach who has made significant contributions to our community. She was recognized on the Channel 9 news on Tuesday, March 8, as part of a series commemorating Women's History Month. Please click on the link below to watch this inspiring interview. https://www.youtube.com/watch?v=vKfh5nbFttQ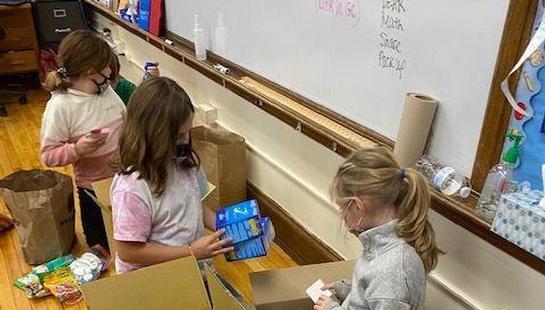 3rd Grade Outreach Supply Drive:

Each year, the 3 rd grade works to collect supplies for the Fabius-Pompey Outreach. This year is no different! We are currently collecting toiletries and other personal care items to be donated before the holiday break. Personal care items are a big need for Outreach because they are something that cannot be purchased from the Food Bank. The 3 rd grade students made signs to promote the drive, requesting items such as toothpaste, toothbrushes, soap, shampoo and conditioner. Boxes were placed on each floor of the Elementary School so that each grade level had a place to collect donations. The 3 rd graders have begun to sort donations into categories in order to better organize the supplies that have already been received. Toiletries and personal care items will be collected ...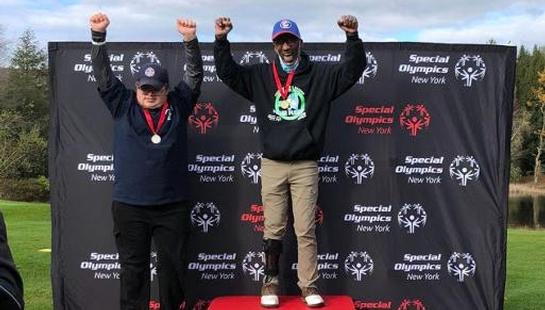 Jacob Latocha Medals at Special Olympics:

Jacob Latocha, an OCM BOCES student in the SUNY Cortland Transitions Program, won a silver medal on October 23 at the Special Olympic Fall Sports event in Glens Falls. The event, held on a cold and breezy day, included athletes from all over New York State. Jacob, who is looking forward to graduating this spring, participated in the golf skills competition, which included short putt, long putt, chip shot, pitch shot, longest iron shot, and longest wood drive. In the initial round, athletes went through all the areas and had their scores tallied. The second round pitted athletes against one another by ranking them. Jacob took the silver medal, and he was also honored for having the longest wood drive, sending the ball more than 150 yards. Congratulations, Jacob! ...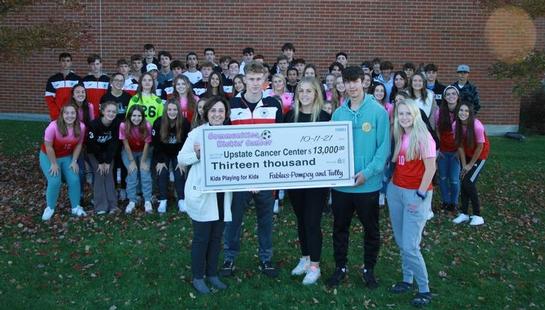 Communities Kickin' Cancer:

Communities Kickin' Cancer - A Fall Tradition in Our Community Contributed by Brenda Zook, Communities Kickin' Cancer Board Member The fall of 2020 was a season of disappointment. Our fifth annual Communities Kickin' Cancer event was not able to take place due to the ongoing pandemic and concerns of gathering together. The Fabius-Pompey and Tully soccer teams, especially our seniors, missed out playing the "game of the year," and both communities missed the gathering of two great teams on Route 80 in southern Onondaga County. Fast forward – August 2021 we received great news. We're Back! The sixth annual Communities Kickin' Cancer event was a go. The Planning Committee gathered quickly and shared concerns about what this ...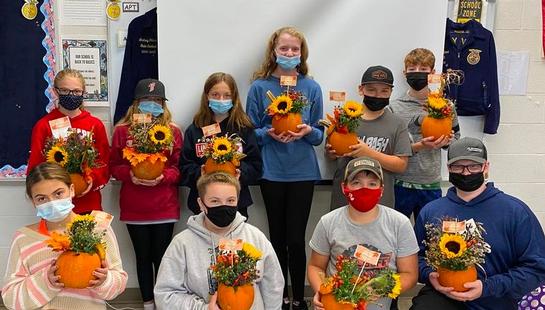 Agricultural Education News:

Pumpkin Centerpieces Students in grades 6 th , 7 th and 8 th grade Ag had the opportunity to create pumpkin centerpieces to celebrate the fall season. After learning the elements of floral design during the floral design unit, students were able to put their knowledge into practice! Students picked flowers, grasses, branches and other materials outside to add filler to their project. The centerpieces were either brought home or given to a teacher to enjoy. A special thanks to Springside Farm for donating the pumpkins we used. We could not have completed this project without your generosity and support of the Ag program! Apple Cider During the middle school food science unit, students learned all about the process of how to make apple cider. During ...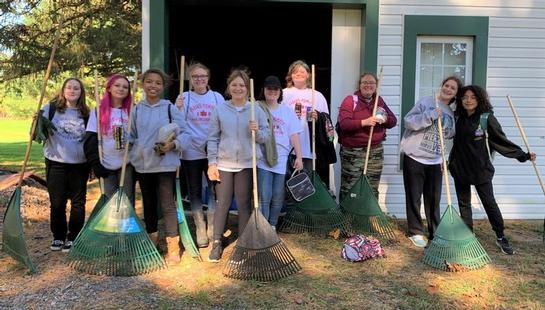 10th Grade Fall Clean-Up:

On Tuesday, October 19, the Class of 2024 executed their fall clean-up on Main Street, at the Fabius firehouse and at Evergreen Cemetery. This beautiful fall day turned out to be an impactful opportunity, where students were able to not only help the community but also enjoy the company of each other. With the help of parents and staff, this day was a huge success. Thank you to Jason Wallace, Diane Ward, Rachele Widdekind, Barb McKenney, Kate Hutson and Meg Wagner for chaperoning this great group of students. Thank you to Matt Neuner, Kevin Sharpe, Chelsea LeBlanc and Ashley Welch for putting this volunteer day together. It gave the students time to build rapport with one another and their teachers outside of the classroom and helped them to gain dignity from their efforts in the clean-up. ...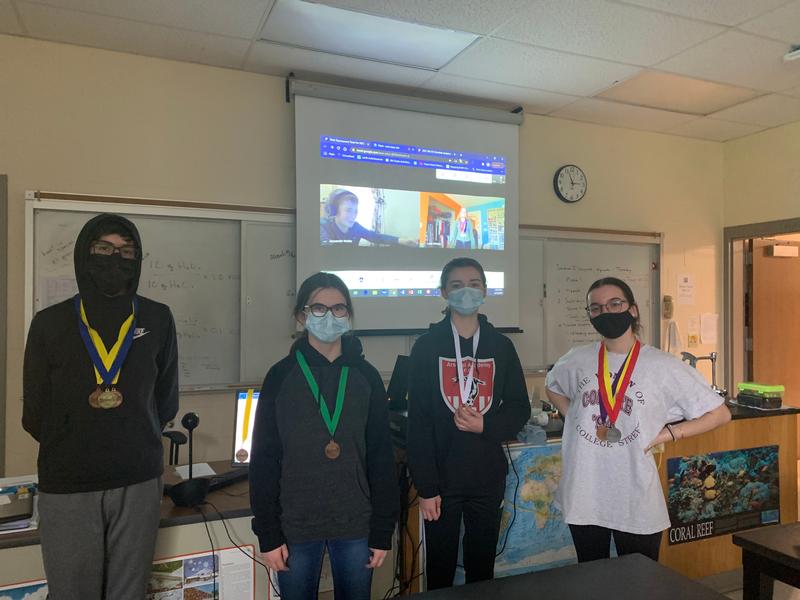 Middle School Science Olympiad:

On April 17, 2021, the Fabius-Pompey Middle School Science Olympiad team competed at the State tournament after placing 7th place overall in the regional tournament. Out of 300 teams state-wide, only 50 were selected to go to the state tournament. Twelve students, in grades 7 through 9, competed in various science events ranging from Ornithology to Meteorology. Like so many other things this year, the competition was unlike any other past Science Olympiad events. The tournament was held virtually this year, with students taking their tests online. Our students were able to meet each challenge as they arose and did an exc ellent job.
Next >> Viewing 1 - 20 of 125 stories