Transportation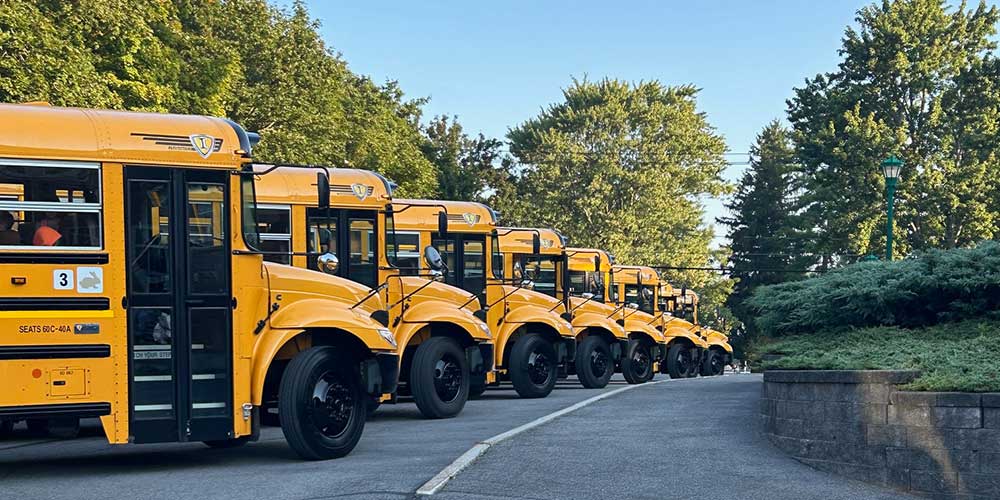 Email
dcarpenter@fabiuspompey.org
Bus Garage Address
1288 Mill Street
Fabius, NY 13063
---
Our Transportation Department is responsible for transporting almost 800 children to and from school, field trips and athletic competitions. Last year, the department's 26 bus drivers drove 280,000 miles to numerous school programs, a variety of parochial, vocational and special education programs, as well as sporting events and field trips.

The Transportation Department insists that safety be its top priority. Driver training, student safety drills and safety awareness programs are all encouraged and emphasized to promote school bus safety.

If you have any questions, please contact Dispatcher Diana Carpenter at (315) 683-5278 or Transportation Supervisor Daniel Silky at (315) 683-5301.

Safety Tips for Parents

Danger Zones
The most important fact that parents must be aware of is the Danger Zone around the outside of a school bus. Despite all of the special mirrors on a bus, drivers may not always be able to see young children who are close to the bus.

How Parents Can Help
Encourage your children to stay out of the Danger Zone and set a safe example by doing so yourself.

If a child needs to cross the road to get on or off the bus and you meet the bus, please discuss the proper crossing techniques. Remember, "I SEE THE DRIVER, THE DRIVER SEES ME!"

Children should keep all belongings in a book bag. Loose items dropped by children can cause them to reach into the Danger Zone.

Any item too large to fit on a child's lap is not permitted on the bus. Large items can block emergency evacuation.

If your child needs to go to an alternative site (i.e., a babysitter), please notify the school in writing, by phone or by email in a timely way.

BUS SAFETY IS TEAMWORK
NEVER BE IN THE DANGER ZONE
CROSS ONLY WITH DRIVER'S SIGNAL
MAINTAIN A SAFE ATMOSPHERE - DO NOT DISTRACT THE DRIVER
BE ON TIME AND READY FOR THE BUS TO ARRIVE
PRACTICE RESPECT AND RESPONSIBILITY