Technology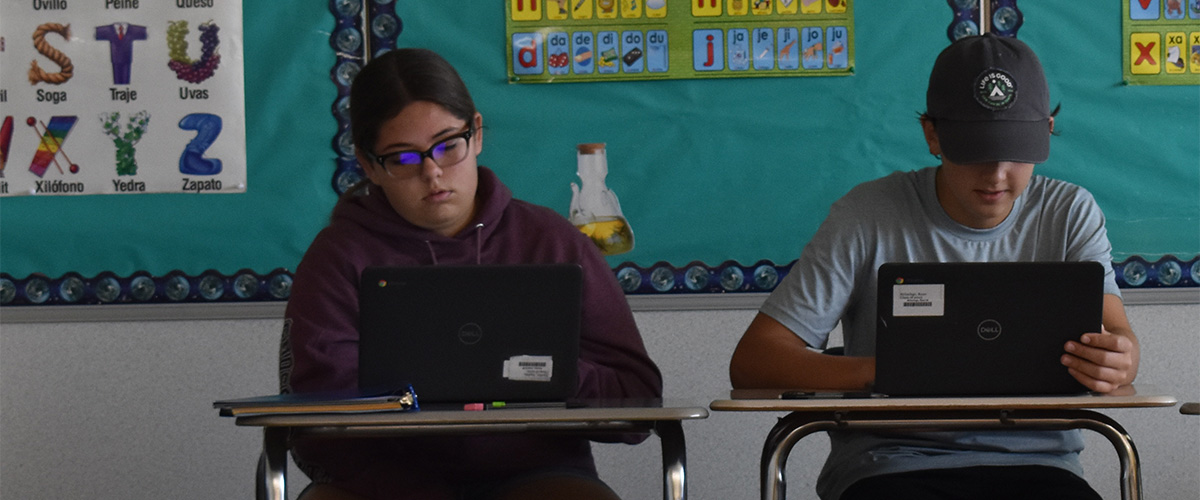 At Fabius-Pompey, we believe that technology should enable learning and be embedded in the daily work of students. Students need to know that they can learn anything and are able to apply what they have learned. Fabius-Pompey uses the
International Society for Technology in Education
(ISTE) standards as a guide to enhance students learning.
Login to District Website here
8 emerging trends in K-12 education
Google/Chromebooks
Fabius-Pompey is a "Google Apps for Education" school. That means all student K-12 have Google accounts through Fabius-Pompey. In addition, we provide Google Chromebooks for classroom use.
Smart Schools Bond Act
In 2014, the Smart Schools Bond Act (SSBA) was passed by voters in a statewide referendum. The SSBA's purpose is to improve educational technology and infrastructure to enhance learning and opportunity for students throughout the State.
Fabius-Pompey Technology Integration Plan
Smart Schools Investment Plans
Once the Smart Schools Investment Plan (SSIP) is developed, Fabius-Pompey will post the plan on our website for public comment, then the SSIP will be sent to New York State Education Department for review and approval.
Technology Related Board of Education Policies
| | | | |
| --- | --- | --- | --- |
| Prefix | Description | Policy No | Policy Date |
| 1.1 | STAFF USE OF COMPUTERIZED INFORMATION RESOURCES | 6185 | 2010 |
| 1.2 | CURRICULUM REVIEW PROCESS | 8115 | 2012 |
| 1.3 | DISCLOSURE OF ANNUAL PROFESSIONAL PERFORMANCE REVIEW (APPR) DATA | 6130 | 2017 |
| 1.9 | GUIDELINES FOR INTERNET ACCESS | 6180 | 2013 |
| 1.10 | STAFF ACCEPTABLE USE OF COMPUTERIZED INFORMATION RESOURCES | 6185 | 2010 |
| 2.4 | INFORMATION SECURITY BREACH GUIDELINES | 5672 | 2016 |
| 2.4 | ACCESS TO STUDENT RECORDS | 7240 | 2012 |
| 2.4.6 | STUDENT DATA BREACHES: PREVENTION, RESPONSE AND NOTIFICATION | 7246 | 2018 |
| 2.6 | Instructional Technology | 8260 | 2012 |
| 2.7 | TITLE I PARENT INVOLVEMENT POLICY | 8265 | 2012 |
| 3.1 | PUBLIC ACCESS TO RECORDS | 3310 | 2015 |
| 3.2 | CONFIDENTIALITY OF COMPUTERIZED INFORMATION | 3320 | 2015 |
| 3.7 | INTERNET SAFETY/INTERNET CONTENT FILTERING POLICY | 7371 | 2012 |
| 3.7.2 | STUDENT ACCEPTABLE USE OF COMPUTERIZED INFORMATION RESOURCES | 7372 | 2012 |
| 4.1 | ELECTRONIC BANKING | 5410 | 2016 |
| 4.3 | EMPLOYEE PERSONAL IDENTIFYING INFORMATION | 6421 | 2009 |
| 4.4 | CONTRACTS FOR INSTRUCTION | 5420 | 2016 |
| 4.4 | FINANCIAL ACCOUNTABILITY | 5545 | 2016 |
| 5.1 | REGULAR BOARD MEETINGS AND RULES (QUORUM AND PARLIAMENTARY PROCEDURE) | 1510 | 2015 |
| 5.1.6 | BULLYING: PEER ABUSE IN THE SCHOOLS | 7516 | 2011 |
| 6.5 | FREE AND REDUCED PRICE MEAL PROGRAM | 5660 | 2017 |
| 6.7 | RECORDS MANAGEMENT | 5670 | 2016 |
| 6.7.4 | INFORMATION SECURITY BREACH AND NOTIFICATION | 5672 | 2016 |
| 6.7.4 | Information Security Breach and Notification | 5678 | 2016 |
| 7.5 | SCHOOL BUS SAFETY PROGRAM | 5750 | 2016 |