<< Previous Next >> Viewing 61 - 80 of 96 stories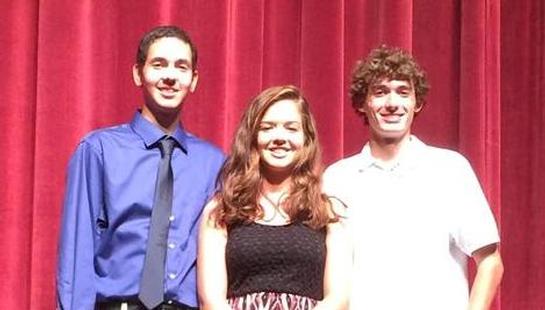 Teen Institute Youth Staff Inductions:

On Monday, September 14th, FP was given the honor to host the Heart of NY Teen Institute Youth Staff induction ceremony. Three FP students were among the select young people to be inducted! Congratulations to Riley Whalen, Joey Yomtob, and Tom Sayles!
Author Visits Sixth Grade:

Author Visits Sixth Grade! Heidi Kelley and Carol Steele Sixth grade had the pleasure of meeting Mr. Jerome Mark Antil, author of the Pompey Hollow Book Club series, on May 27 th . Students asked a variety of questions like what his favorite book was and where he gets his ideas from. His mother knew he would be an author someday and named him after Mark Twain. His father also inspired him through his storytelling. He began writing the Pompey Hollow Book Club series after his daughter encouraged him to write and publish the stories he had told her growing up. Mr. Antil generously donated a copy of his first book, The Pompey Hollow Book Club, to every student in sixth grade and signed them. Mrs. Kelley also got a sneak peak at his newest book, ...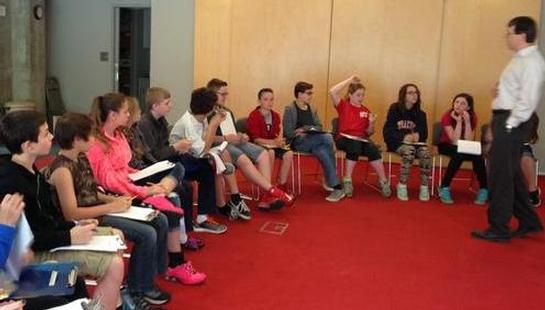 Museum of Earth:

Are You Smarter than a Sixth Grader? Heidi Kelley See if you can answer the following questions: What modern day animal is a relative of the extinct mastodon? Why would you be unable to find dinosaur bones in New York State? Was New York once under a sea? What color is a glacier? Where would you find the oldest known rocks on Earth and how old are they? The sixth grade class knows the answers and a whole lot more about Earth's history after visiting the Museum of the Earth in Ithaca on May 22 nd . The museum houses one of the nation's largest fossil collections and provides the public with a unique opportunity to explore 4.5 billion years of Earth's history through a mix of natural history displays, interactive ...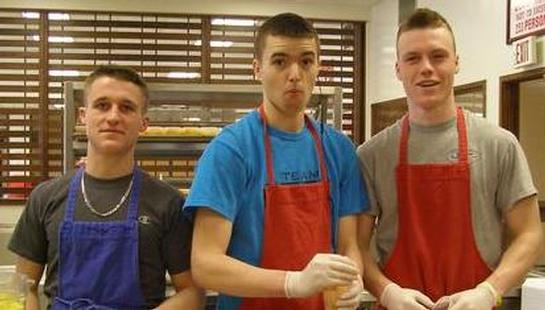 Culinary Arts Class:

Culinary Art students are getting a first hand experience in preparing and making food in a commercial setting. Seniors Tanner Allen, Brandon Henson and Chase Breed are pictured helping in the cafeteria preparing fresh fruit for the lunch menu. Students in the two classes also assisted with preparing food for the winter picnic which was held March 25th.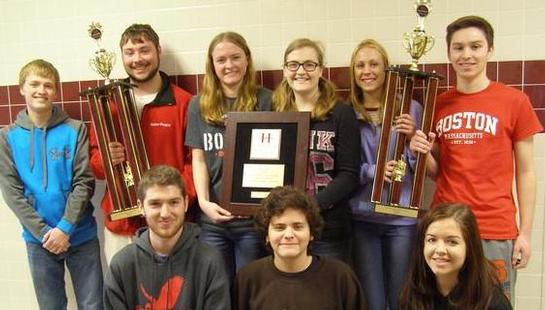 High School Symphonic Band wins big in Boston:

Congratulations to the Fabius-Pompey High School Symphonic Band for their outstanding performance in Boston this past weekend (March 27-29). The band received a Gold rating, 1st place in their class, a 'top section' award for the french horns (Sydney Alley, Riley Whalen & Rammi Hanai), and was awarded the top overall band award, beating out eleven other groups from six states. We are exceptionally proud of their accomplishments.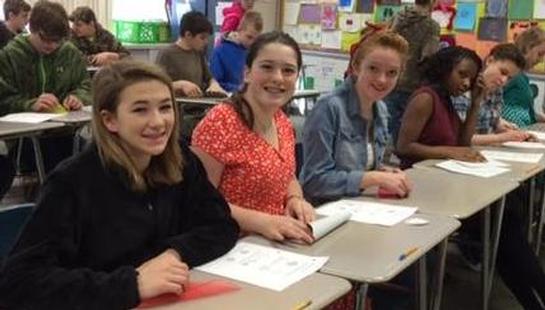 War and Remembrance Day:

On Thursday, March 19th, the 8th grade students participated in War and Remembrance Day to remember the events of World War II. Throughout the day, students visited various stations ranging from code-breaking to army basic training. As a concluding event, students participated in recreation of a USO show, complete with performances from Abbott and Costello, the Andrew Sisters, and Bob Hope!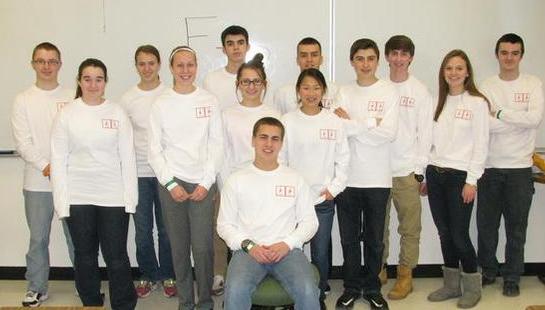 Science Olympiad:

High School Science Olympiad The High School Science Olympiad team competed Saturday January 31 st at LeMoyne College. The team included: Anthony Fish (12), Sindney Lelakowski (12), Sam Sharpe (11), Meaghan McDevitt (11), Kelsey White (11), Sarah Marsden (11), Adrian Warner (10), Ben Stroh (10), Victoria Sims (10), Joe Alnutt (10), Rebekah Warner (10), Adrian Vilardi (10), Lydia Young (10), Tyler Gorman (9), and Hailey Niles (9). The students did a great job competing in "Chemistry Lab", "Cell Biology", "Bridge Building", "Experimental Design", and many other science and technology events. Adrian Warner and Lydia Young placed 9 th in "Fossils", Adrian Vilardi and Joey Alnutt placed 8 th in "Compute This", ...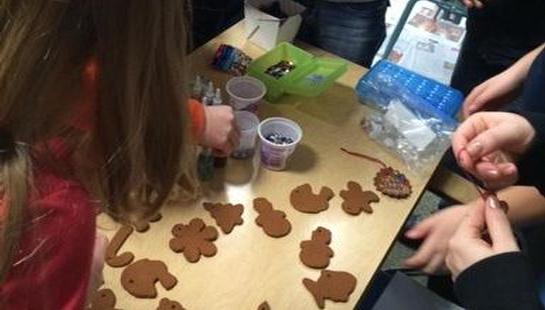 Revolutionary War Day at FP:

On Tuesday, December 23 rd , the seventh grade students participated in an interdisciplinary event surrounding the American Revolution. The day began with a presentation in the auditorium that involved a video by Morgan Freeman discussing the contemporary application of the Declaration of Independence and a performance of the document from 1776 by Fabius-Pompey staff and school board members. The students continued their experience of the Revolutionary War time period by rotating through a variety of activities which included candle-making, snowshoeing, colonial crafting, and colonial snacking. In order to understand t he differences in the experience of war from 1776 to today, students and parents were able to follow the events of the day through a special ...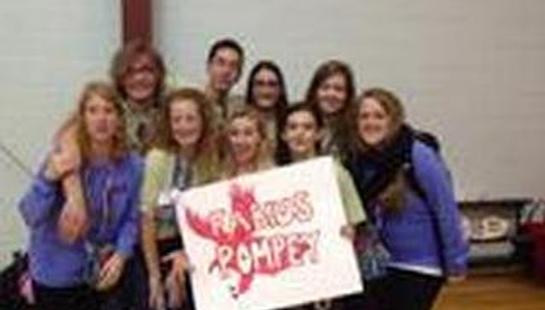 Heart of NY TI Conference:

Fabius-Pompey students at the Heart of NY Teen Institute Conference From November 6th-9th, a group of Fabius-Pompey High School students attended the annual conference to learn about their skills as a leader and how to encourage the development of a strong and healthy school community within Fabius-Pompey. Stay tuned for Teen Institute's Kids' Night Out coming in January!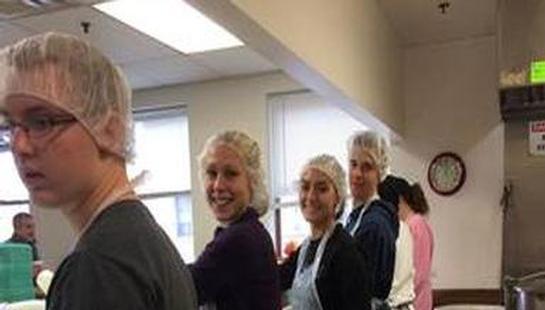 NHS tours the Syracuse Rescue Mission:

On Friday (11/7) the Fabius Chapter of the National Honor Society took a field trip to the Syracuse Rescue Mission. The students took a tour of the Rescue Mission's large campus and also volunteered for the day. After learning about the major causes of homelessness and what the Rescue Mission is doing to try to combat it, the NHS students broke up into two groups. One group prepared and served lunch to over one hundred Rescue Mission guests, while the other group served in the Clothing Outreach department, organizing clothes and working in customer service. The trip was a success both in terms of the assistance that the students provided to members of the Syracuse community as well as the impact it had on their own lives.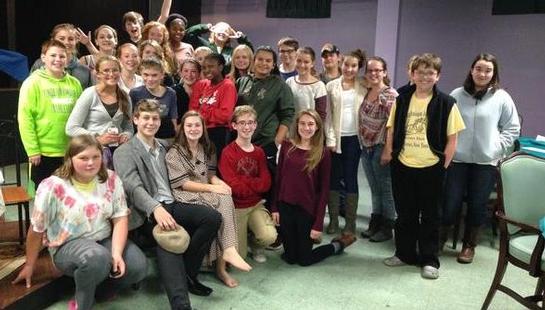 Students attend a play: The Diary of Anne Frank:

On October 16th, Miss Harrod and Mrs. Pollard took over forty Fabius Pompey students to Appleseed Theater to watch the play The Diary of Anne Frank. The play was directed by Lois Haas and Barb Byron. It was wonderful. Our students saw an outstanding performance. This month, we are taking kids to see Hairspray at Syracuse Stage on December 10th. Flyers will be coming home this week.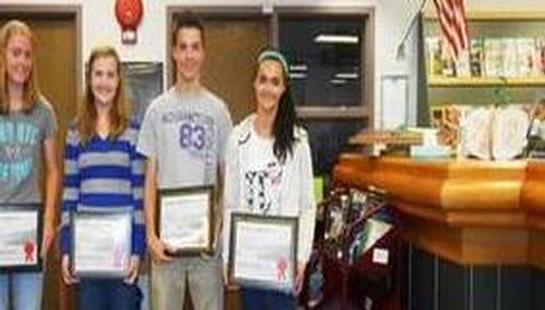 Student Recognition:

The Fabius-Pompey Board of Education on Tuesday, October 7, 2014 honored the following students who scored a 100 on a June Regents Exam: English: Kristin Warner, Abigail Young, Kyle McGowan, and Todd Abbott Physical Setting/Chemistry: Nicole June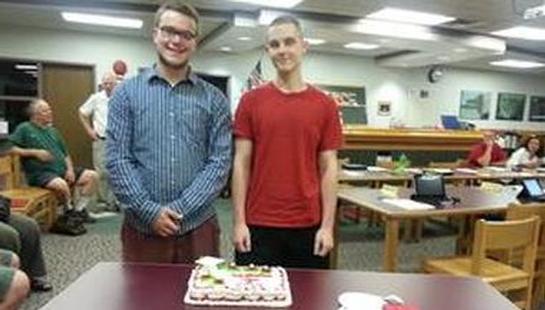 August Graduates:

Congratulations to our August Graduates...Michael Schell and John Dudden. The two were honored at our September 2, 2014 Board of Education meeting.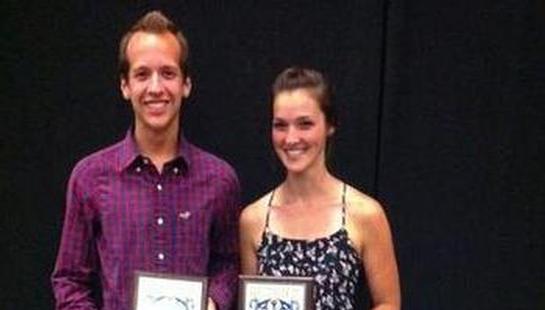 Section 3 Honors Student Athletes:

At the conclusion of each school year, Section III Athletics honors its member schools and their top senior athletes that excelled both in the classroom and on the playing field. The Section III Scholar Athlete Awards Dinner presented by Coca-Cola Bottling Company of NY celebrates the accomplishments of the section's top scholar-athletes and recognizes the achievement of each student. The best male and female scholar-athletes from each of the 105 schools within Section III are honored at this event with plaques and certificates. This year's dinner, awarded over $6,500.00 in college scholarships to our outstanding high school student-athletes, which was held on June 9th at the SRC Arena on the campus of Onondaga Community College. The Section III Scholar Athlete ...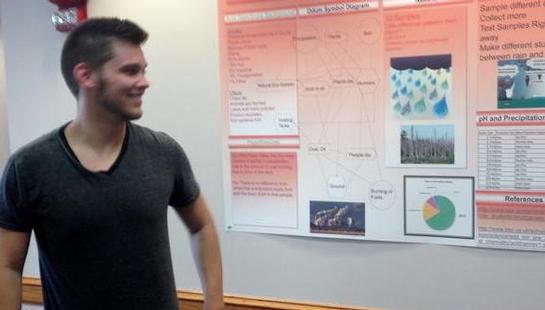 SUNY ESF Poster Competition:

Timothy Vales received the award for 'Best in Show by Student Choice' in the scientific poster competition at the annual Environmental Summit hosted by SUNY ESF. Tim studied the influence of a storm's moisture source on the acidity levels of snow and rain. A special thanks to the Fabius-Pompey Education Foundation for covering the costs of the poster printing.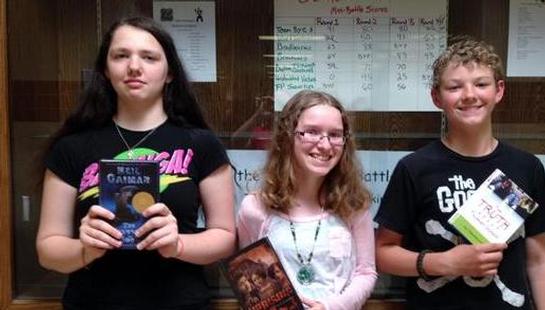 Battle of the Books:

6th Annual Battle of the Books Congratulations to the following Battle of the Books participants: Word Warriors Bwhaa Talking Cactuses Undoubted Victors FP Smarties Sam Conkin Sara Neagley Tyler Gorman Amelia Gleason Jeremy Skeele Parket Jackson Jack Klawitter Olivia Zoeckler Aidan McCarthy Kira Kascha Connor Pero Megan Gagnier Bookworms Brainiacs Bye Charlie Morrow Rose Stroh Logan Clancy Addison ...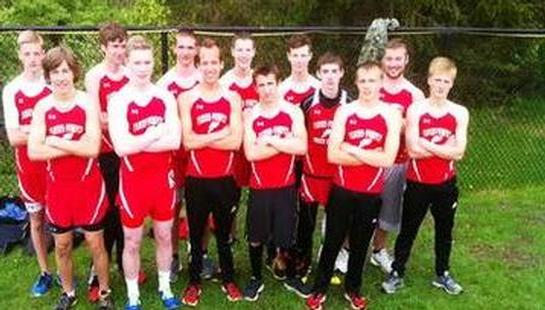 Boys' Track Sectionals:

On Friday, May 23 rd , 13 boys from the varsity track team attended sectionals in South Lewis. To qualify, certain times, distances and heights must be achieved. They competed against athletes from all section 3, class C schools. The rain held off and the boys did a great job representing Fabius-Pompey by placing in many of the events. Of particular note were those boys who stepped up to fill open spaces in the relays, many running these races for the first time. Their courage and tenacity made the season a success!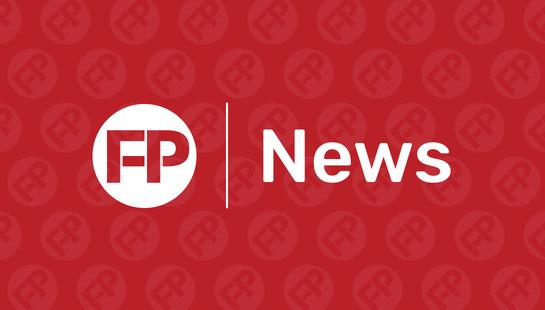 Girls' Track Sectionals:

On May 22nd, the Girls Varsity Track Team traveled to South Lewis High School to compete in the Section C 1 & 2 meet. The weather made it difficult to get the meet going, but after a lengthy delay, it finally did start. Unfortunately, just as we were close to finishing the meet, another storm kicked up and we had to call the meet. The meet resumed the next day prior to the start of the boys meet. The team did very well, placing in nearly every event entered in, and placing 3rd as a team overall. Chelsea Ratliff is the Section C2 Champion in the 200 meter, Tonya Jackson is the Section C2 Champion in Shot Put, and Adelia Alexander is the Section C2 Champion in High Jump. These three young ladies will continue on to compete in the State Qualifiers ...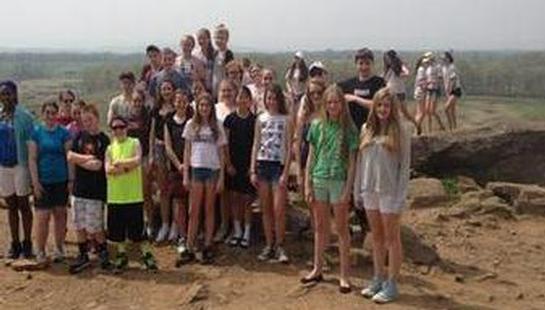 Gettysburg Field Trip:

On Friday, May 9th a group of 6th, 7th, 8th, and 9th grade students participated in a joint Middle School Student Government and Yorker's Club field trip to Gettysburg, PA. This year marks the 150th anniversary of the Battle at Gettysburg. The students toured battlefields and the museum to understand the experience of the soldiers who fought at Gettysburg and how the battle became a turning point in the American Civil War. Here they are pictured standing on top of Little Round Top, a major site of the battle.
<< Previous Next >> Viewing 61 - 80 of 96 stories