<< Previous Next >> Viewing 61 - 80 of 101 stories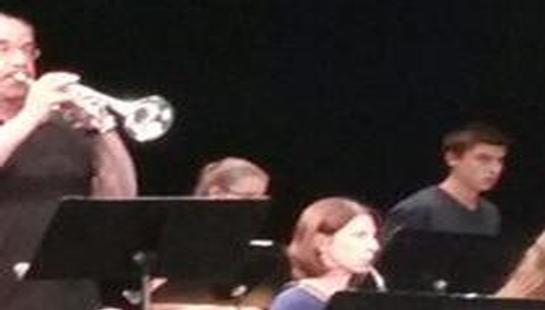 Trumpet clinic for F-P band students: On Tuesday, June 7th professional trumpet player John Raschella gave a trumpet clinic for Fabius-Pompey band students. Mr. Raschella had some wonderful advice. He shared ideas on using your musical talents to gain college scholarships even when you aren't majoring in music and worked with individual trumpet players on the benefits of great breath support and posture in trumpet playing. He also rehearsed a piece entitled "Emmanuel" that he will be performing in concert on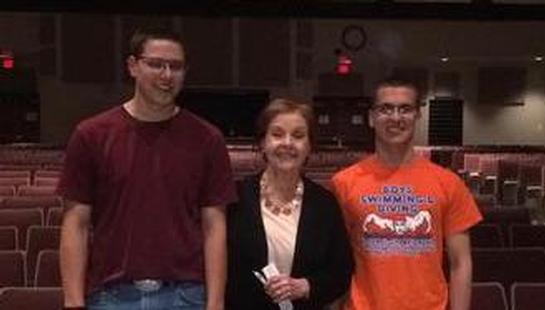 Marion Blumenthal Lazan, a Holocaust survivor visits F-P MS/HS: On

Wednesday, May 18th the students at the MS/HS had the unique and wonderful experience of listening to Marion Blumenthal Lazan, a Holocaust survivor, as she visited our building. Her story told the students of her personal experience of being trapped in Hitler's Germany, living in a refugee camp turned into a prison camp in Holland, spending over a year of her childhood at the infamous concentration camp of Bergen-Belsen, and awaiting her fate on the infamous death trains towards the end of the war. Her story, however, did not end there. She told the ...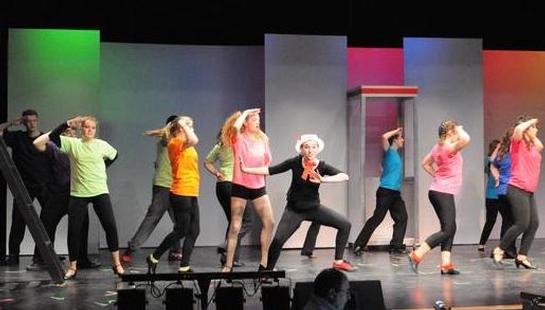 Seussical:

Seussical the Musical On March 11 and 12 over fifty Fabius-Pompey actors, pit orchestra musicians, and technical theatre students presented Seussical, the Musical to three enthusiastic audiences. Prior to their performances, students also had an opportunity to participate in a "Learning Adjudication" by a trained adjudicator from the Theatre Association of New York State (TANYS). First, they performed Seussical, then Mr. Paul Nelson from TANYS gave them constructive and objective feedback to help them develop their skills as performers and theatre technicians. The Theatre Association of New York State (TANYS) is the primary voice of community and academic theatre in New York State.TANYS nurtures and supports the growth of all aspects ...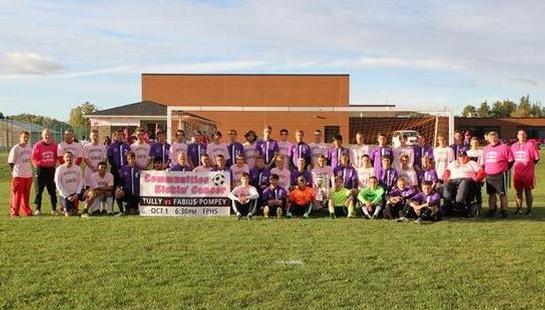 Fabius-Pompey Goes Pink:

Fabius-Pompey Goes Pink When a Fabius-Pompey community member thinks about Tully often the term rival or competitor comes to mind. However, on Thursday October 1 st , Fabius-Pompey and Tully put their differences aside and created an event to stamp out Breast Cancer by supporting the Carol M. Baldwin Fund. This inaugural event, known as "Communities Kickin' Cancer," saw parents, coaches, players, local businesses and community members come together, clad in pink shirts, for a night of soccer, good food, games, prizes, but even more important remembering and honoring loved ones afflicted with cancer. The ...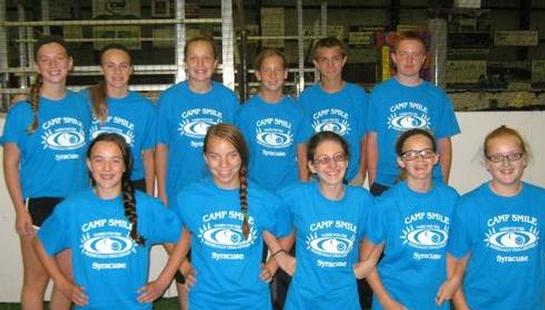 Empire State Game for the Physically Challenged:

Students attend the Empire State Games for the Physically Challenged Three student athletes from the elementary school and eleven volunteering eighth graders from the middle school attended the Empire State Games for the Physically Challenged Adapted Sports Clinic on September 30 th at the CNY Family Sports Center. The athletes participated in an array of modified games and sporting events such as golf, bowling, archery, volleyball, an obstacle course and many more. The eighth grade volunteers earned Community Service hours as they helped man the various sporting events and cheered on the athletes. Both the athletes and the volunteers were worn out by the end of the day, but everyone agreed it had been a wonderful day! Front Row (L to R): Megan Gagnier, ...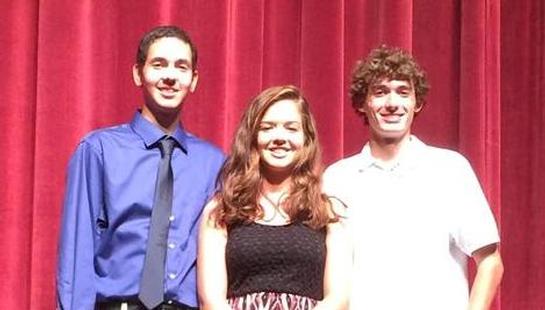 Teen Institute Youth Staff Inductions:

On Monday, September 14th, FP was given the honor to host the Heart of NY Teen Institute Youth Staff induction ceremony. Three FP students were among the select young people to be inducted! Congratulations to Riley Whalen, Joey Yomtob, and Tom Sayles!
Author Visits Sixth Grade:

Author Visits Sixth Grade! Heidi Kelley and Carol Steele Sixth grade had the pleasure of meeting Mr. Jerome Mark Antil, author of the Pompey Hollow Book Club series, on May 27 th . Students asked a variety of questions like what his favorite book was and where he gets his ideas from. His mother knew he would be an author someday and named him after Mark Twain. His father also inspired him through his storytelling. He began writing the Pompey Hollow Book Club series after his daughter encouraged him to write and publish the stories he had told her growing up. Mr. Antil generously donated a copy of his first book, The Pompey Hollow Book Club, to every student in sixth grade and signed them. Mrs. Kelley also got a sneak peak at his newest book, ...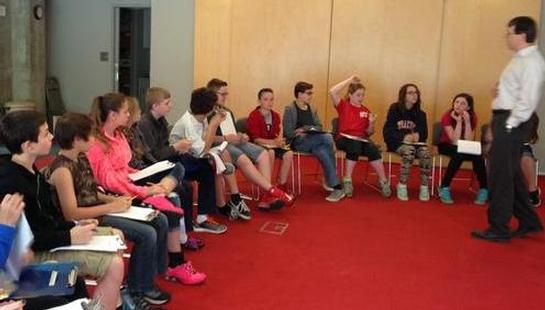 Museum of Earth:

Are You Smarter than a Sixth Grader? Heidi Kelley See if you can answer the following questions: What modern day animal is a relative of the extinct mastodon? Why would you be unable to find dinosaur bones in New York State? Was New York once under a sea? What color is a glacier? Where would you find the oldest known rocks on Earth and how old are they? The sixth grade class knows the answers and a whole lot more about Earth's history after visiting the Museum of the Earth in Ithaca on May 22 nd . The museum houses one of the nation's largest fossil collections and provides the public with a unique opportunity to explore 4.5 billion years of Earth's history through a mix of natural history displays, interactive ...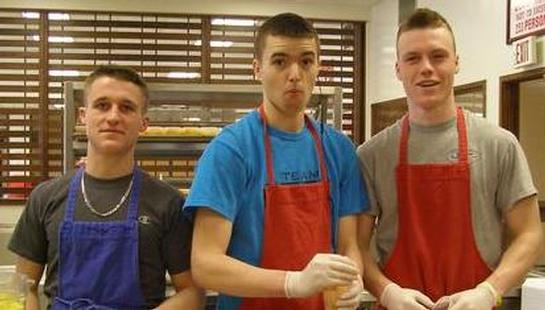 Culinary Arts Class:

Culinary Art students are getting a first hand experience in preparing and making food in a commercial setting. Seniors Tanner Allen, Brandon Henson and Chase Breed are pictured helping in the cafeteria preparing fresh fruit for the lunch menu. Students in the two classes also assisted with preparing food for the winter picnic which was held March 25th.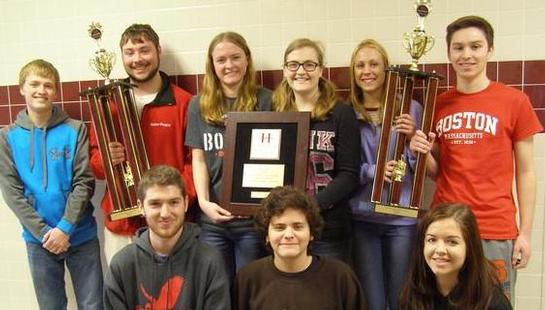 High School Symphonic Band wins big in Boston:

Congratulations to the Fabius-Pompey High School Symphonic Band for their outstanding performance in Boston this past weekend (March 27-29). The band received a Gold rating, 1st place in their class, a 'top section' award for the french horns (Sydney Alley, Riley Whalen & Rammi Hanai), and was awarded the top overall band award, beating out eleven other groups from six states. We are exceptionally proud of their accomplishments.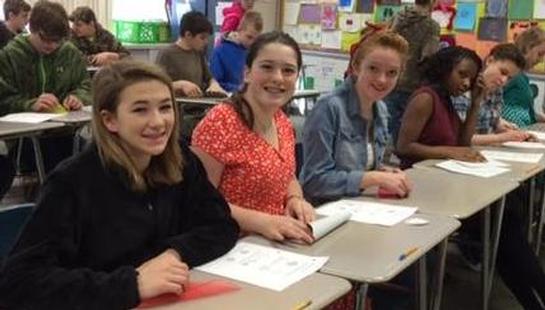 War and Remembrance Day:

On Thursday, March 19th, the 8th grade students participated in War and Remembrance Day to remember the events of World War II. Throughout the day, students visited various stations ranging from code-breaking to army basic training. As a concluding event, students participated in recreation of a USO show, complete with performances from Abbott and Costello, the Andrew Sisters, and Bob Hope!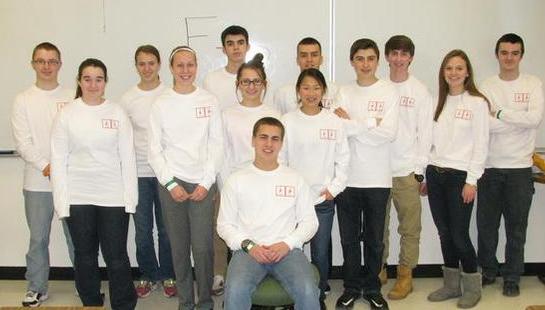 Science Olympiad:

High School Science Olympiad The High School Science Olympiad team competed Saturday January 31 st at LeMoyne College. The team included: Anthony Fish (12), Sindney Lelakowski (12), Sam Sharpe (11), Meaghan McDevitt (11), Kelsey White (11), Sarah Marsden (11), Adrian Warner (10), Ben Stroh (10), Victoria Sims (10), Joe Alnutt (10), Rebekah Warner (10), Adrian Vilardi (10), Lydia Young (10), Tyler Gorman (9), and Hailey Niles (9). The students did a great job competing in "Chemistry Lab", "Cell Biology", "Bridge Building", "Experimental Design", and many other science and technology events. Adrian Warner and Lydia Young placed 9 th in "Fossils", Adrian Vilardi and Joey Alnutt placed 8 th in "Compute This", ...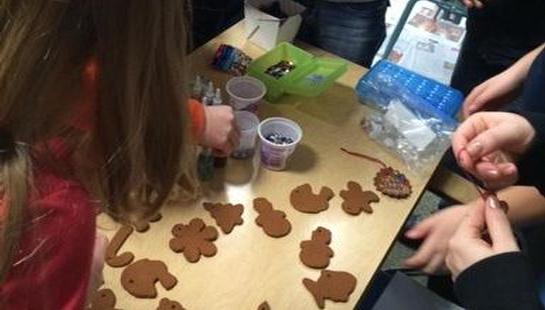 Revolutionary War Day at FP:

On Tuesday, December 23 rd , the seventh grade students participated in an interdisciplinary event surrounding the American Revolution. The day began with a presentation in the auditorium that involved a video by Morgan Freeman discussing the contemporary application of the Declaration of Independence and a performance of the document from 1776 by Fabius-Pompey staff and school board members. The students continued their experience of the Revolutionary War time period by rotating through a variety of activities which included candle-making, snowshoeing, colonial crafting, and colonial snacking. In order to understand t he differences in the experience of war from 1776 to today, students and parents were able to follow the events of the day through a special ...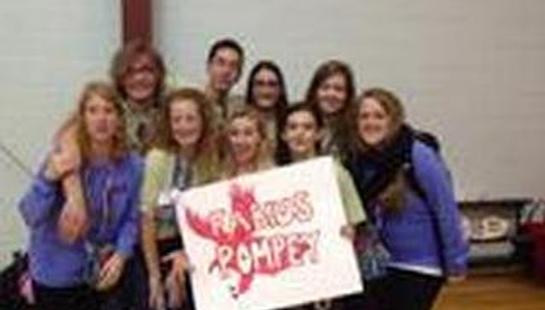 Heart of NY TI Conference:

Fabius-Pompey students at the Heart of NY Teen Institute Conference From November 6th-9th, a group of Fabius-Pompey High School students attended the annual conference to learn about their skills as a leader and how to encourage the development of a strong and healthy school community within Fabius-Pompey. Stay tuned for Teen Institute's Kids' Night Out coming in January!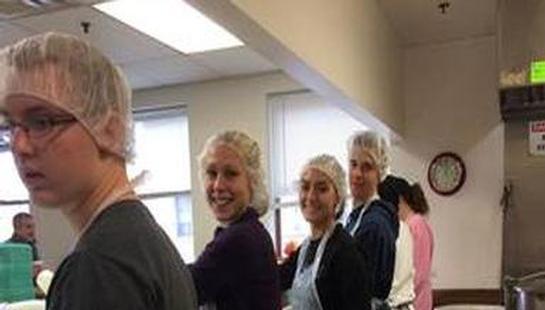 NHS tours the Syracuse Rescue Mission:

On Friday (11/7) the Fabius Chapter of the National Honor Society took a field trip to the Syracuse Rescue Mission. The students took a tour of the Rescue Mission's large campus and also volunteered for the day. After learning about the major causes of homelessness and what the Rescue Mission is doing to try to combat it, the NHS students broke up into two groups. One group prepared and served lunch to over one hundred Rescue Mission guests, while the other group served in the Clothing Outreach department, organizing clothes and working in customer service. The trip was a success both in terms of the assistance that the students provided to members of the Syracuse community as well as the impact it had on their own lives.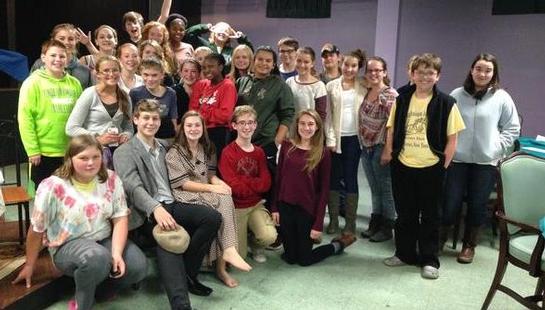 Students attend a play: The Diary of Anne Frank:

On October 16th, Miss Harrod and Mrs. Pollard took over forty Fabius Pompey students to Appleseed Theater to watch the play The Diary of Anne Frank. The play was directed by Lois Haas and Barb Byron. It was wonderful. Our students saw an outstanding performance. This month, we are taking kids to see Hairspray at Syracuse Stage on December 10th. Flyers will be coming home this week.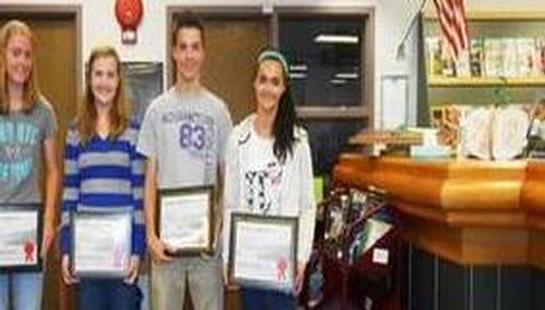 Student Recognition:

The Fabius-Pompey Board of Education on Tuesday, October 7, 2014 honored the following students who scored a 100 on a June Regents Exam: English: Kristin Warner, Abigail Young, Kyle McGowan, and Todd Abbott Physical Setting/Chemistry: Nicole June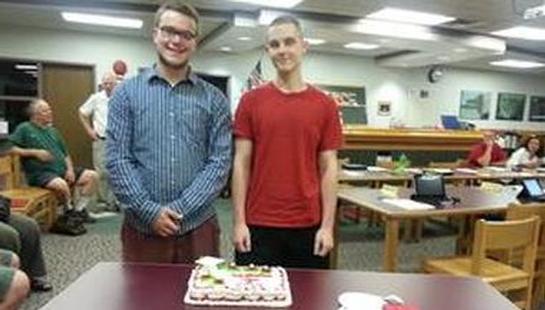 August Graduates:

Congratulations to our August Graduates...Michael Schell and John Dudden. The two were honored at our September 2, 2014 Board of Education meeting.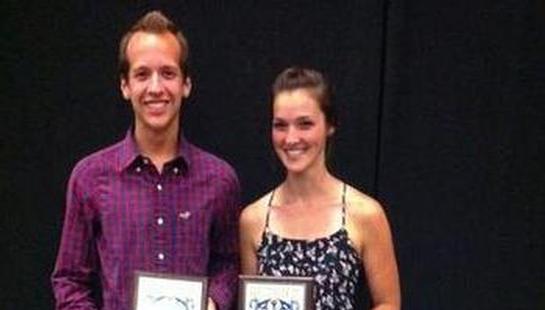 Section 3 Honors Student Athletes:

At the conclusion of each school year, Section III Athletics honors its member schools and their top senior athletes that excelled both in the classroom and on the playing field. The Section III Scholar Athlete Awards Dinner presented by Coca-Cola Bottling Company of NY celebrates the accomplishments of the section's top scholar-athletes and recognizes the achievement of each student. The best male and female scholar-athletes from each of the 105 schools within Section III are honored at this event with plaques and certificates. This year's dinner, awarded over $6,500.00 in college scholarships to our outstanding high school student-athletes, which was held on June 9th at the SRC Arena on the campus of Onondaga Community College. The Section III Scholar Athlete ...
<< Previous Next >> Viewing 61 - 80 of 101 stories