Middle School Student Council volunteers
---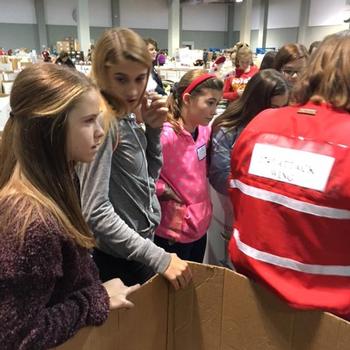 On December 19th, members of the Middle School Student Government had the opportunity to volunteer at the Christmas Distribution Center held at the Oncenter in Syracuse. The primary job of the students was to work behind the scenes sorting toys for age appropriate genders. This made it easier for the volunteers who were working with the public to come back and grab the barrel of toys needed for the table of the age and gender they were supervising and restock.
Prior to the volunteer experience, the Middle School Government, helped to supply four barrels of non perishable food items for this worthy cause by hosting a food drive. To make the experience fun for the entire middle school and to give the students an incentive to bring in as much canned food as possible, they were offered an incentive. Mrs. Lang's homeroom won a Dunkin Donuts breakfast. The Middle School Government Students also went shopping for toys and books to donate as well.
At the OnCenter, the students were able to experience and see first hand the need of some members in the community of Syracuse. As they looked around they were able to see barrels of food, and knew that somewhere among those barrels, were their four. They knew that among the toys they were sorting, that maybe they were sorting theirs, or, maybe theirs had already been handed out to a needy child. This invaluable experience hopefully is an experience they can carry around with them always, and as such they will be willing to reach out to those who are less fortunate than themselves and be willing to share whatever they are capable of sharing.