Peter Wilder - Master Teacher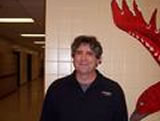 Peter Wilder, one of our MS/HS science teachers, was recently selected to participate in the New York State Master Teacher Program. He is one of 35 members of the inaugural Central New York cohort of this program. The primary goal of the program is to help develop regional public school teaching capacity in the areas of science, technology, engineering, and math.

In his role as a Master Teacher Fellow, Mr. Wilder will mentor new and pre-service science teachers, as they begin their careers as educators. He will also have the opportunity to participate in and to lead several professional development sessions over the course of the next four years.

The Master Teacher program is sponsored by the State University of New York, and the Central New York cohort is based at SUNY Cortland.