Next >> Viewing 1 - 20 of 95 stories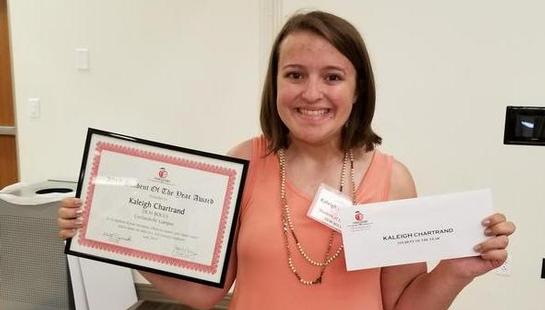 Kaleigh Chartrand CTE Student of the Year:

Kaleigh Chartrand has been attending the Early Childhood Education Program at OCM BOCES since her junior year here at Fabius-Pompey. Kaleigh has excelled at the highest level, becoming a member of the National Technical Honor Society, as well as, being named CTE Student of the Year at the Cortlandville campus. During her program, Kaleigh has acquired in-depth knowledge about the characteristics, needs and behaviors of three and four year olds, and has studied best practices on how to guide and teach them in a nursery school setting. She has planned, prepared and presented activities for these children while operating all phases of a nursery school. Kaleigh will continue her studies at Onondaga Community College in the Fall. Congratulations on an outstanding year, ...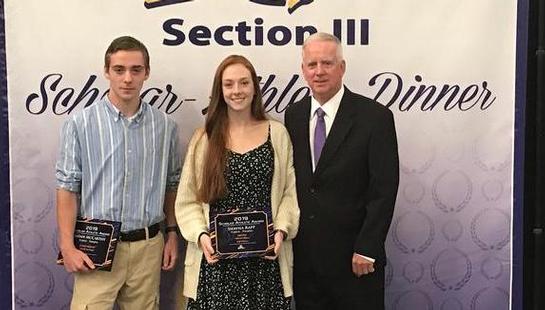 Scholar Athletes 2018-19:

Congratulations to our 2019 Section III Scholar Athletes Shayna Rapp and Aidan McCarthy. This year's nominees attended a dinner at Onondaga Community College SRC Arena on June 10, where they were honored with delegates from almost every school in Section 3. With around 1000 people in attendance, they received awards and were eligible for scholarships from some big names sponsors of the event. A Section III Scholar Athlete is an athlete who participated in two sports in his/her junior and senior years. Must have displayed a high level of proficiency in his/her sports. Participate actively in school and/or community service activities. The athlete should have distinguished him/herself in the areas of leadership, work ethic, cooperation and dependability, ...
Evan McCarthy CTE student of the year:

Evan McCarthy, a senior at Fabius-Pompey, has been attending the Laboratory Technology program at OCM BOCES since his junior year. The two-year program offered at the Thompson Road Campus allows students to work in a high-tech medical laboratory environment. Students acquire and practice technical skills and apply their knowledge to real-world scenarios. Throughout his time in the Lab Tech program, Evan has been able to collect specimens, perform clinical laboratory testing and write the necessary laboratory reports. He also secured an internship at a chemical and analysis lab in the Syracuse area. In addition to being the first student from Fabius-Pompey to attend the program, Evan has been inducted into the National Technical Honor Society and has earned the honor of being named CTE student ...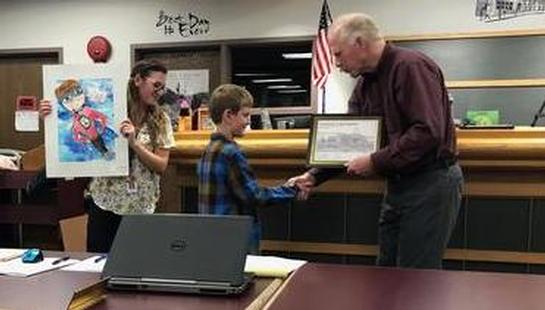 2019 Art Recognition:

On Tuesday, June 4, 2019 the Board of Education honored student artwork at their meeting. Artwork was showcased from kindergarten to twelfth grade. Miss. Ash, Ms. Ashman, and Mr. Hyatt announced each student and their award. The students showed the board members their artwork. The Board of Education president, Mr. Neugebauer presented each student with a certificate. 2019 Art Student Recognition NYSATA Student Art - Naturally, Beaver Lake Nature Center, April 2019 Lucas Richardson – 1st grade Beatrice Valletta – 1st grade Quintin Goodemote – 3rd grade Gavin Myers – 4th grade Hailey Nicholas – 5th grade Fayetteville Free ...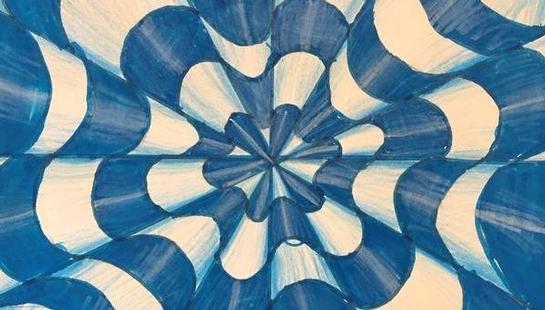 Inside Outside 2019:

Each year, the students of Fabius-Pompey Elementary School submit writing and artwork for our literary magazine, Inside Outside. The writing that is chosen represents the very best of our students' work from that year. We also have students illustrate the magazine's theme. This year the theme is "Kindness Grows Here", and the chosen artwork adorns Inside Outside's covers. This year, we featured a new addition. Miss Ash, our art teacher, chose the best of her students' work from the year, and that is also featured at the end of each grades sections. We are proud of the artistic and literary accomplishments of all our students. Enjoy this virtual copy, and congratulations to everyone whose work makes it ...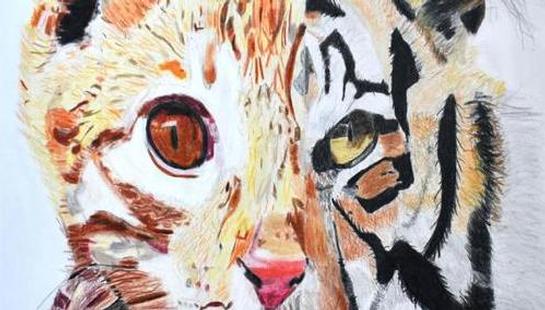 You are Here 2018-19:

You Are Here , the Fabius-Pompey High School Literature & Art Magazine 2018-2019, has been released online. Founded 10 years ago by the students of Fabius-Pompey, You Are Here is released annually and features the creative writing and visual arts of High School students. This magazine was created as a way for students to express themselves and affirm their place in time at Fabius-Pompey. Enjoy! You are Here 2018-19
3rd grade awarded a SEMA grant:

SEMA GRANT/Morrisville College 3rd Grade Field Trip After submitting a proposal to the SEMA organization (Specialty Equipment Market Association), Mrs. Goodfellow was awarded a $1,000 Grant for our 3rd grade students to become engaged in the field of automotive design/engineering. On April 26th, as part of our SEMA Grant, our 3rd grade traveled to Morrisville College. Professor Ray Grabowski gave us, and Mark Frigon with several FP HS students, a guided tour through their Design/Engineering division. We then visited their Automotive Dept. We saw all sorts of vehicles in various stages of design. We were able to see college students working on engines, repairing cars, and had the chance to explore the tools and machines required in this process. ...
Battle of the Books:

F-P Battle of the Books Goes Regional Battle of the Books is a voluntary reading incentive program for students in grades 3-8. The purpose is to encourage students to read good books and have fun while competing with peers. Fabius-Pompey 5-8th grade students came together to read 10 books of different genres. They met as teams weekly the past 5 months and quizzes each other along with student coaches in grades 9 and 10. On April 5 the 5th and 6th grade teams battled in the auditorium against each other to correctly answer the most amount of questions on their books. Picture the Olympics of Reading! Reading is not just an individual sport anymore! Mrs. Kelley and Ms. Turner were excited to change up the battles to go beyond just our own Fabius-Pompey. OCMBOCES ...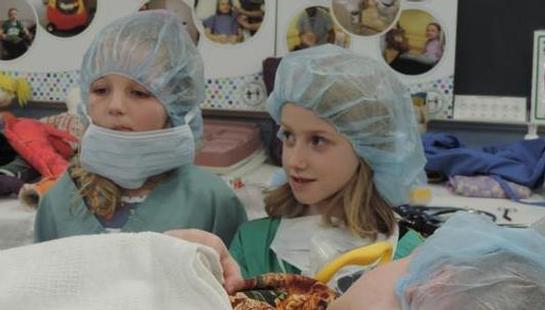 A Visit to Hospital Land:

A Visit to Hospital Land! On April 9th and 10th, the first grade classes each took a trip to Hospital Land at Crouse Hospital! Hospital Land is sponsored by the Crouse Hospital Auxiliary and open to all first grade classes in the area. While there, the students were able to take part in a simulated surgery to remove someone's tonsils. Each student had a role to play, from admitting the patient, preparing for surgery, delivering food from the cafeteria, and being surgeons and nurses. After this, the students were able to use wheelchairs, crutches, a stretcher, sit in a hospital bed, and talk about experiences they have had being sick. The students left with a better understanding of what it is like to visit the hospital, and how to keep their bodies ...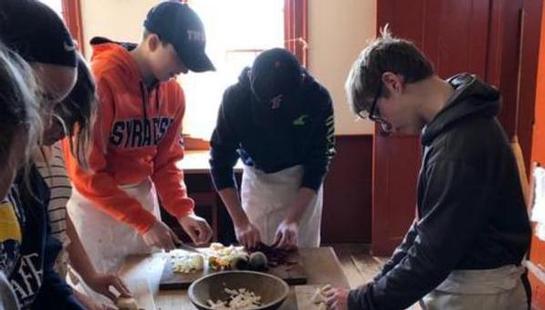 7th grade Farmer's Museum field trip:

Seventh grade went on a field trip to the Farmer's Museum in Cooperstown, NY on Thursday, April 4. The students participated in a workshop program on life in the early 1800's. Each student had the opportunity to work with an artisan at two different workshops to make something that was part of everyday rural life in the 19th century. This was a wonderful hands-on experience that the student thoroughly enjoyed.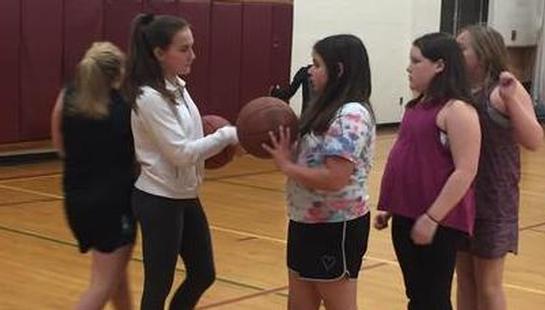 Fabius-Pompey Student Athletes Participate in Leadership Academy:

Fabius-Pompey Student Athletes Participate in Leadership Academy by Cait Smith, Physical Education teacher and coach The Leadership Academy is specifically designed for student-athletes in Section III. Participants will explore curriculum modules throughout the program including: Adversity, Character, Sportsmanship, Attitude, Courage, Being a good Role Model, and much more! Eight Student-Athletes and 4 Coaches from Fabius-Pompey attended a meeting at Cortland high school, where they started to participate in leadership training. One of the goals of the group was to start a project at Fabius-Pompey that will be sustainable and will benefit our school or community. The Student-Athletes chose to help increase participation in Recreation sports by getting ...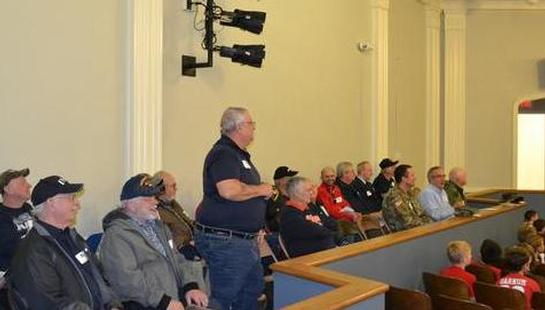 Veterans Day Celebration at the Elementary School:

A Salute to Our Veterans! By Colleen Apgar, Elementary Teacher On Friday, November 9, the Elementary School held it's third annual Veterans Day Celebration. Nearly 30 Veterans were in attendance. All branches of the military were represented including a World War II Veteran! Mr. John Hall, a member of the Honor Flight Syracuse Board of Directors, and Director of Honor Flight Volunteer Resources, delivered the keynote address. He shared with the audience what the Honor Flight missions entail for the Veterans involved. These are flights from Syracuse to Washington D.C. that allow Veterans to tour the war monuments. Mr. Hall was on hand after the ceremony to offer information to Veterans interested in participating in one of these flights. ...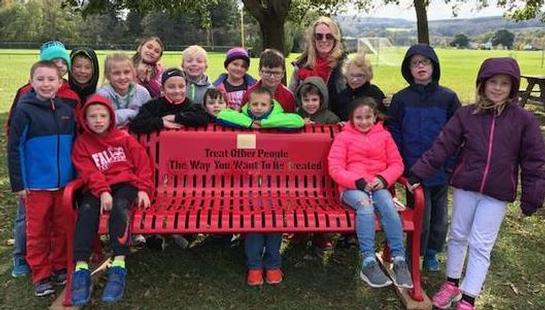 Buddy Bench:

On Friday, October 19, 2018, the Fabius-Pompey Elementary students and staff gathered together to recognize and embrace a new Buddy Bench on the playground. Jan and Marvin Murray donated the bench in memory of their son Marc who passed away from a long battle with leukemia. On the bench there is a plaque that states in memory of Marc Murray, and the message , "Treat others that way you want to be treated". The buddy bench originated in Germany, but started in the United States by a student in Pennsylvania who saw a picture of this special bench ( http://buddybench.org/us/christians-story/ ). The simple idea was to eliminate loneliness and foster friendship on the playground. This spirit of friendship ties into our school's pledge, Rachel's ...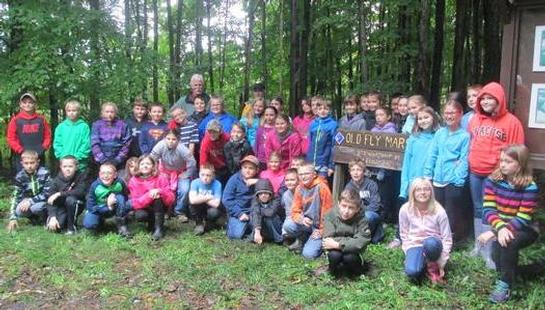 Old Fly Marsh:

Old Fly Marsh Field Trip The fifth graders traveled to Old Fly Marsh in Fabius on Friday for a field trip to study the ecology of a marsh. Mr. Jack Gramlich, and his friend John, led student groups on tours of the marsh. Students learned about the importance of wetlands to our area, as well as the history of the marsh. There was a discussion of the impact of invasive species (phragmites) on the marsh ecosystem. Students were also able to experience firsthand the large impact the beaver colony in the marsh is having in flooding the trails. One of this year's groups was able to see an active paper wasp nest. Another group was able see the migrating geese come in for a landing at the marsh, where they would spend the day resting and feeding before ...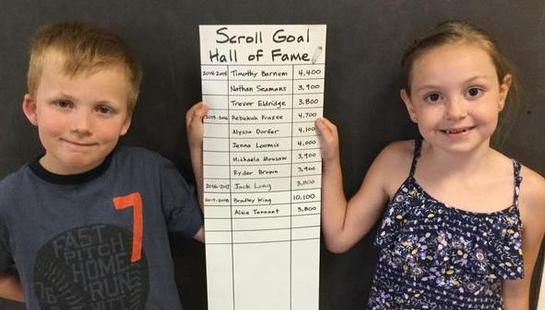 Number Scrolls at 1st grade:

Reaching 10,000 One of the rites of passage in the first grade is working on the number scroll. It starts with a sheet with a 10 x 10 grid and the students begin writing their numbers. When complete, it is attached to a cardboard tube and the next sheet begins at 101. The goal was to finish one sheet per week and keep adding it to the previous sheet. A parent once inquired why we would do such a thing as it seemed monotonous. It was a fair question and upon consideration, three purposes / goals were solidified. First, it builds number sense by witnessing the numbers grow by one more and seeing the consistent patterns of our base-10 number system. Secondly, it helps develop those fine motor skills and neatness. Lastly, it demonstrates ...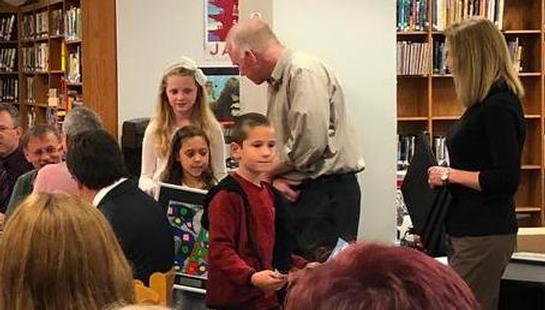 2018 Art Recognition:

2018 Art Student Recognition On Tuesday, June 5, 2018 the Board of Education honored student artwork at their meeting. Artwork was showcased from Kindergarten to twelfth grade. Mrs. Lindsley-Barton, Ms. Ashman, and Mr. Hyatt announced each student and their award. The students showed the board members their artwork. The Board of Education president, Mr. Neugebauer presented each student with a certificate. NYSATA Student Art - Naturally, Beaver Lake Nature Center, April 2018 Colden Kreilach – 1st Grade Marin Apgar – 3rd Grade Sophie McMahon – 3rd Grade Ava Lee – 4th Grade Timothy Barnum – 4th Grade Payton Taylor – 5th Grade NYSATA Legislative Student Art Exhibition, ...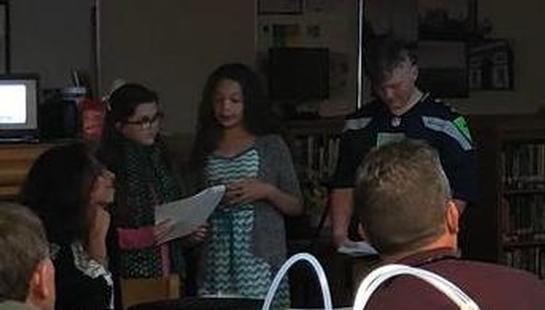 5th graders go to Albany:

The fifth grade students went on a field trip to Albany, NY on May 3, 2018 to tour the capitol building and museum. This is a great field trip to support 4th and 5th grade Social Studies curriculum. Our students have traveled to Albany for the past three years. At the June 5th Board of Education meeting, Carson Edwards, Emma Kadlubowski, and Siriah Walser present to the board members their experience. The students talked about the tour of the NY State Capitol building and the architecture of the building. The Corning Tower and the 360 degree views of Albany and the Hudson River from the top. Lastly, the students talked about their visit the NY State museum. The museum covers many aspects of New York State history, including: ...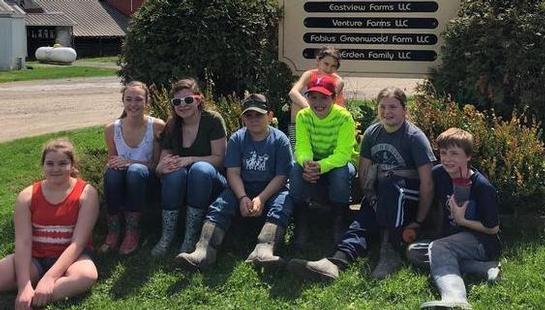 Agriculture/Dairy after school Cluster:

Agriculture/Dairy after school Cluster Six students in 3rd and 4th grade had the opportunity to be part of the first Agriculture/Dairy after school Cluster, put on the by the Onondaga County Dairy Promotions Team. Students met each week with 2nd Alternate NYS Dairy Princess, Zoie Skinner, a junior at FP, and several local Dairy Ambassadors (Cassandra Wilbur, Maddy Haaf, Isabella Esposito, Sasha Lelakowski, Isabella Loomis & Ruth Siau). The students learned to identify dairy products and then learned about the 9 essential nutrients in milk and what they do for their body. They also got to see pictures of the red & white Holstein calf that they adopted and learned about her growth each week. (They named her Fireball!) The next week the students went ...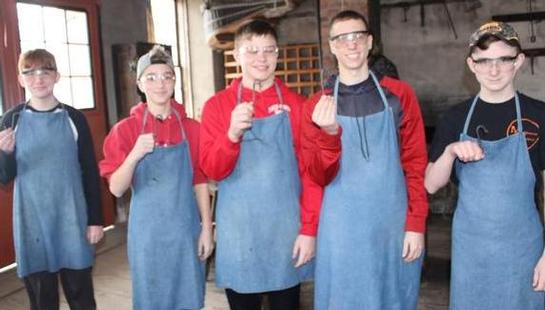 7th grade visits the Farmer's museum in Cooperstown:

The seventh grade took a field trip to the Farmer's Museum in Cooperstown, NY on Thursday, March 22. The students participated in a workshop program on life in the 1800's. Each student had an opportunity to work with an artisan at two different workshops to make something that was part of everyday rural life. This was a wonderful hands-on experience that gave the students a window into the daily life of people in central New York in the 1840's.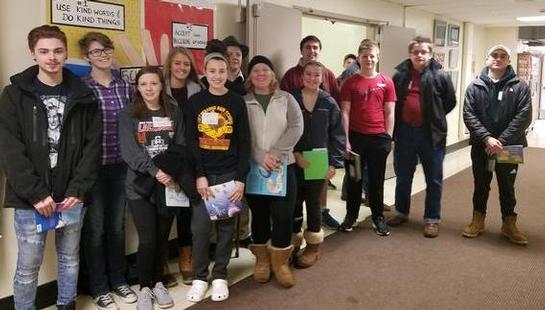 Read Across America:

Read Across America Week March 2 - 9 was Read Across America Week at the elementary school. This year, we started our celebration with our traditional birthday cake for Dr. Seuss, baked by our wonderful cafeteria staff and decorated by Mr. Sims. We spent the week doing DEAR, or Drop Everything And Read time. DEAR is a 20 minute block announced at a different time every day, when everyone in the building - faculty, staff, and students - drops whatever they're doing to read. Students love this special time when everyone curls up with a good book. We also had a home reading challenge, with the students who read the most minutes for the week receiving a Barnes and Noble gift card, courtesy of APTS. Congratulations to everyone ...
Next >> Viewing 1 - 20 of 95 stories