5th graders go to Albany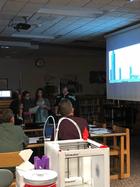 The fifth grade students went on a field trip to Albany, NY on May 3, 2018 to tour the capitol building and museum. This is a great field trip to support 4th and 5th grade Social Studies curriculum. Our students have traveled to Albany for the past three years.
At the June 5th Board of Education meeting, Carson Edwards, Emma Kadlubowski, and Siriah Walser present to the board members their experience. The students talked about the tour of the NY State Capitol building and the architecture of the building. The Corning Tower and the 360 degree views of Albany and the Hudson River from the top.
Lastly, the students talked about their visit the NY State museum. The museum covers many aspects of New York State history, including: earliest people and animals, the wilderness, rocks and minerals found in the state, colonial times, growth of industry and cities, immigration, as well as an excellent display on September 11th.