Public Speaking Class reads to Elementary Students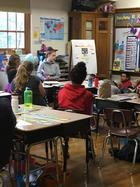 Public Speaking is an elective offered at the high school level for students who want to improve their confidence while speaking in front of a group. The elective is based around practicing the skill of speaking as much as possible to build a student's courage and self-assurance. We focus heavily on variations in pacing and pitch, the importance of pause, the necessity of genuine eye contact, the need for enthusiasm and expression, and changes in volume, tone, and inflection. In this class the motto is: "It is about the audience, not the speaker".
In order to instill that motto into the students early in the semester, we start the semester off reading children's books to the class. I tell them: "Ham it up! Kids will not sit if they are bored, make it a show! Pretend your high school classmates are 5 year olds!" (I even make the "audience" sit "criss-cross applesauce" on the floor during the readings). This year, with the help of the elementary school, we have the opportunity to practice these skills in front of a true group of children. I believe that reading aloud to some classes of elementary school students will test my students' skills thus far, as well as give them more confidence for public speaking in the real world. We can't wait to share our books with the children!