Green Screen in the MS/HS library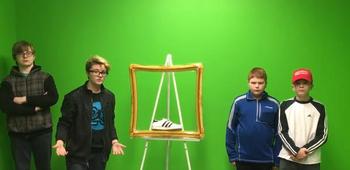 Green Screen in the MS/HS Library
We have a new Green Screen in the Middle School-High School Library. One of the backrooms has been painted a vibrant green. The students have had tons of fun taking holiday selfies and adding their own unique backgrounds before holiday break. You can see quite a few of them on the MS/HS Library website (www.fplib.com) on the instagram feed.

In addition, Mrs. Miles and Miss Turner recently collaborated on a Parody Commercial Project for her 7th grade General Music Class. Students created a song parody for alternative products such as Sweet Smelling Undergarments and Dunk Shoes. Student groups rapped and sang their way into using the Green Screen. They practiced and came in during the day to film their parody commercials. You can see these commercials here. Students pick their own backgrounds and helped edit their commercials. They learned valuable skills including the need to practice and plan to create a better final product. All of the students had a lot of fun and said they hoped to create another video soon. In fact, one student received a project and is already brainstorming ways she can create a video.