Author Visits Sixth Grade
---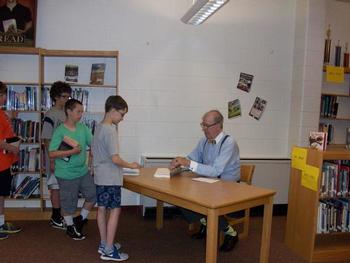 Author Visits Sixth Grade!

Heidi Kelley and Carol Steele

Sixth grade had the pleasure of meeting Mr. Jerome Mark Antil, author of the Pompey Hollow Book Club series, on May 27th. Students asked a variety of questions like what his favorite book was and where he gets his ideas from. His mother knew he would be an author someday and named him after Mark Twain. His father also inspired him through his storytelling. He began writing the Pompey Hollow Book Club series after his daughter encouraged him to write and publish the stories he had told her growing up. Mr. Antil generously donated a copy of his first book, The Pompey Hollow Book Club, to every student in sixth grade and signed them. Mrs. Kelley also got a sneak peak at his newest book, Mary Crane and the Pompey Hollow Book Club- Séance with Sherlock, which is the first book of its kind. Throughout the book are QR codes which enable the reader to hear sounds and speeches from the time period, truly bringing the book to life! Students learned a lot about what an author's life is like. He recommended to the student to keep a diary which students could then use later in life to become authors themselves.