March Senior Student of the Month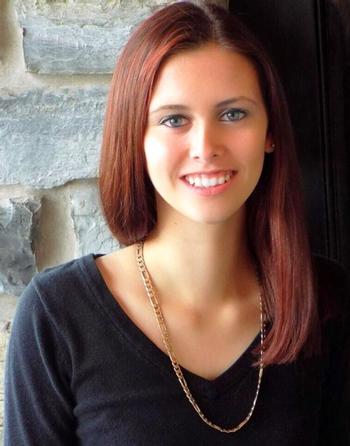 March Senior Student of the Month
Sofia Powell has been chosen as Fabius-Pompey's Senior Student of the Month for the month of March. Sofia is a hardworking student who challenges herself in the classroom, has played softball and volleyball throughout her high school career, and volunteers as a tutor in the middle school.
What has been your favorite extracurricular activity in high school?
Softball is my favorite activity, because the games are definitely the most enjoyable and I really love the people on the team. I've also enjoyed the opportunity to meet so many new people through the summer leagues.
What has been your favorite subject or course in high school?
AP Biology, because it secured for me that it is definitely what I want to study in college. It is so interesting learning about the things you see and experience every day. I especially loved the Neurology unit - what could be cooler than using your neurons to learn about your neurons!
What accomplishment are you most proud of?
In 10th grade, I participated in Model UN and I am typically very shy and quiet, so I was really proud of myself for going through with it. And I didn't even humiliate myself, so that was great!

What are your plans for next year and beyond?
I will be attending the University at Buffalo to study Biomedical Sciences. I still haven't decided if I want to go into research or go on to be a doctor, but hopefully college will help me to figure that out.
Who inspires you?
My mom is my biggest inspiration. She is an environmental lawyer and I am always impressed to see how she handles the stressful events and people she encounters in her work every day.
What advice do you have for underclassmen?
Do you best and don't let failures set you back. High school is a very small part of your life in the grand scheme of things, so don't let a single failure on a test or struggles in your activities or sports make you feel like you can't be successful. There is so much more life after high school, so just do the best you can while you are here.