Adrian Vilardi - West Point Candidate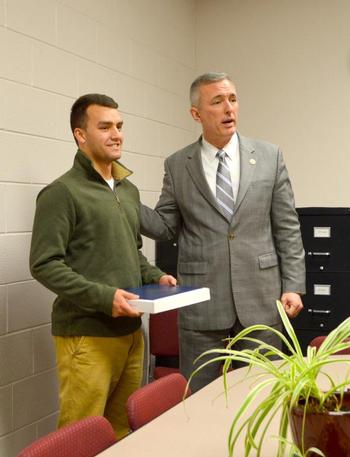 On Wednesday, January 18, 2017, Congressman John Katko visited Fabius-Pompey High School to inform F-P Senior Adrian Vilardi of his offer of appointment from the United States Military at West Point. Also attending the meeting was Assemblyman David Knapp, School Administrators and many of Adrian's immediate and extended family members.
Adrian was one of a group of select students to be nominated to the U.S. Military Academy by Congressman Katko after a competitive review and interview process conducted by an independent Service Advisory Committee. The committee interviews all of the candidates for nomination to the U.S. Service Academies in New York's 24th Congressional District and makes recommendations to the Congressman for nominations. A candidate needs to both receive a nomination and be accepted through the Academy's own admission process to be made an offer of appointment. The Nomination and appointment process is very competitive. The U.S. Military Academy typically receives 13,000 – 15,000 applications each year and admits approximately 1,00 candidates. If Adrian accepts the offer of appointment, he will join the U.S. Military's Class of 2021.
Congratulations to Adrian and his family!